Take Local lifestyles to another level and
change the way people travel
We believe local experiences are ones of the most important keys of traveling. By sharing our Thai way of life to foreign travelers, we will be able to spread the world of what we are made of and what we are meant to be.
Home
Local Expert Benefits






A way to earn extra money
Instead of chilling after work or idling at home during weekends. With TakeMeTour, you can travel around and earn your pocket money at the same time.

Practice your language skills
With TakeMeTour, you will be able to practice your English more often, and that, we believe, is the best way to learn.



早

Hi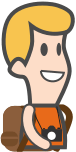 Exchange culture and Meet new friends
Meet new friends from around the world and share your passion through your trip, while travelers exchange their thoughts to you.

Get to travel more often
Listing a trip with TakeMeTour is the best way to motivate yourself to travel. See the world in the different perspective every trip you are taking on.





Please choose your type.
---
I have the passion of showing around my home town / community and culture in my free time.
I love to share local experiences to everyone.
I love meeting new friends from all around the world.
Sign Up
---
We are a company.
We provide our own tours / products to travelers.
We have our team of professional guides to lead the tours.
Sign Up
TakeMeTour.com provides an easy platform for creating local trips with our support team who will make sure that traveling is just a piece of cake.